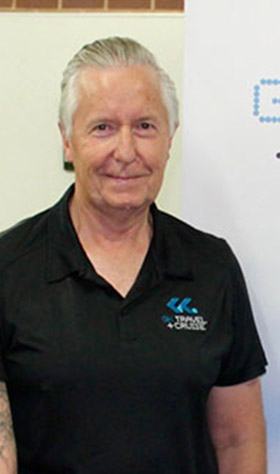 Tony Williams
Travel Planner
Tony has been with GK Travel for 6 years now. He brings with him an unbroken 40 years of travel agency expertise. He has worked primarily within the sphere of leisure travel, in both Managing and consulting roles, except for a 12-year stint managing the MYER GRACE BROS. corporate account (Australia-wide).
Recent travel experiences:
Tony and his wife Maria escorted a group of 36 happy people from the Hoppers Club on a Sea Princess 7-night cruise to the Great Barrier Reef. Tony was also part of an Australian contingent on a gourmet tour to Los Angeles, Anaheim and San Diego in November 2015.
In July 2016 Tony and Maria undertook a 6–week round world trip encompassing Paris, London, country U.K./Scotland, Venice, a 7–night Mediterranean cruise on the Vision of the Seas, Rome, New York, Washington and San Francisco (phew!) In Feb. 2017 a remarkable 7–night cruise on the Queen Mary 2 to Sydney via Kangaroo Island. In February 2018 Tony and Maria completed a 7–night Hawaiian Islands cruise aboard the 'Pride of America'. In Jan. 2020 they enjoyed a 7–night cruise aboard the Queen Elizabeth.
If you hadn't already noted, you will understand that Tony is our in-house cruise expert.
Tony's planning future cruises including a 2022 Australia Day cruise ex-Melbourne (some berths still available – but hurry!)
Speak to Tony 03 9752 2943 or email him: tony@gktravel.com.au